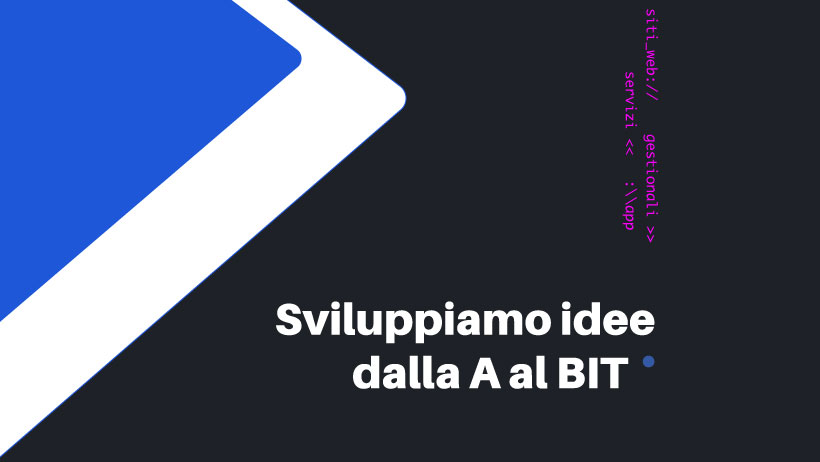 Custom software
Did you know that it is possible to increase the productivity and reliability of your computer system thanks to the use of customized software that corresponds in detail to your needs?
Atobit, a software house based in Rubiera, was born from the experience and the desire to offer customized software. It is important for us to follow the customer in every step: from the birth of the idea to its development, guaranteeing continuous and constant support during each phase of product creation. The consultancy does not stop on delivery but continues with constancy, offering support and assistance over time.
How can customized software come from an idea?
Our headquarters in Rubiera (RE) , in the heart of Emilia Romagna, is the meeting place where we develop ideas and projects.
A first phase of comparison is essential to define the objectives to be pursued in order to meet the required needs: our aim is to create a flexible, high-performance and quality customized product .
We create a tailor-made quote for you, which respects the characteristics required for the creation of your customized software, highlighting its design and structure.
As soon as the estimate is approved and the identity card of your customized software defined, our team will take care to create the agreed product, transforming the idea of ​​your customized software into a tangible and functional product.
In order for the result to comply with our agreements, your software under construction will be tested through simulations and checks; this is to verify that all aspects - such as functionality, design and structure - are respected and can guarantee an optimal final experience.
Your customized software is now ready
Once the compliance checks are complete, we are ready to deliver your Custom Software , designed ah hoc for you from A to BIT ! We deliver a complete product, the result of a continuous and constructive collaboration: we will help you launch it on the web, we will give you the necessary instructions for its use and we will be by your side in every step to guarantee you support and assistance in case of need. In addition to this, we provide our team to be able to offer you the best corporate communication: from brand identity to the management of social platforms
Services offered
WEBSITES : we create websites from scratch, we modify existing ones by managing every aspect: design, development, publication, hosting, scalability and security
COMPANY MANAGEMENT : we develop performing business management systems with advanced features, which can replace or integrate perfectly with the various company software already in use
APP : we create and maintain Android and iOS Apps with modern designs, taking full advantage of all the features applicable to latest generation smartphones
SOLUTIONS : we develop general utility software, APIs, integration services, chatbots, machine learning decision algorithms for reporting and data analysis